| | |
| --- | --- |
| | Split Polygon By Area Tool |
Target layer: Polygon
Description: Splits the selected with the tool polygon in two with a vertical or horizontal line by user defined area or percentage of the total area. Click on a polygon with the tool. A dialog will open.
The arrows in the Split Direction panel define the direction from which the user defined area will be calculated.
Two methods for defining the area to be cut

Absolute Area - not available for datasets in Geographic Coordinate Systems or Unknown projection
Percent of the total area

The input units might be different from the units of the spatial reference of the edited dataset. You can select any of the available in the dialog input units, the input area will be recalculated in the units of the dataset before splitting the polygon
In many cases the exact area requested cannot be achieved. You need to specify the allowed difference between the requested and achieved area. The tool will try to interpolate until the area is within this tolerance from the requested area. The units of the Allowed Difference tolerance are the same as the selected input units.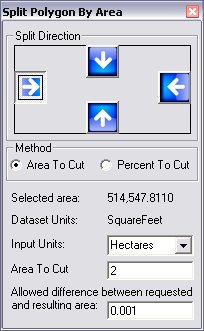 Attribute Updates: The attributes are updated according the user defined for the dataset attribute update rules..
Notes:
In some cases the desired area cannot be achieved. In such cases the tool will report the area achieved.
The smaller the Allowed Difference, the slower the process.
Depending on the selected polygon, the tool might create multi-part polygons.
Copyright © Ianko Tchoukanski