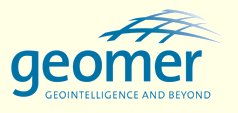 geomer is one of the leading German companies for geographic information technology. Founded in 1999 geomer has since been delivering comprehensive knowledge and support to its clients. As a full-service provider for GIS technology, geomer brings to you the complete range of necessary services, software and data products as well as experienced training for your successful project implementation.
geomer is authorized reseller for ESRI software desktop and server products. Open Source software is also supported. In addition, geomer develops custom tailored desktop or server-based software solutions for industries solutions, natural hazard systems assessment, geo-marketing, and other digital mapping products. In order to fulfill the needs of their customers, a wide range of technical skills and development environments is provided. Applied standardized project methodology comprises project management, software design, software development, configuration management and quality management.
High quality data products from the industry leading geo-data provider NAVTEQ as well as from other sources ensure your profit.

The geomer team develops solutions for numerous German and international companies and institutions. Clients include well-known brands like Michelin, Allianz, Bosch, BASF, Brockhaus, DaimlerChrysler, Lufthansa Systems and Tchibo. Most of the German and many international authorities and institutions in charge of geo-related issues trust our quality products and services, among them the Federal Institute of Hydrology, the Federal Environment Agency, the Federal Institute of Geosciences and Natural Resources, the Swiss Federal Agency for Water Resources and Water Treatment, the Government of Ontario, Canada, and the Chinese Academy of Sciences.
For further information please contact:
Hartmut GŁndra
geomer GmbH
Tel.: +49(6221)89458-20
eMail: hg@geomer.de
URL: www.geomer.de